Boost Your Brand Reputation With These 5 Tips
Boost Your Brand Reputation With These 5 Tips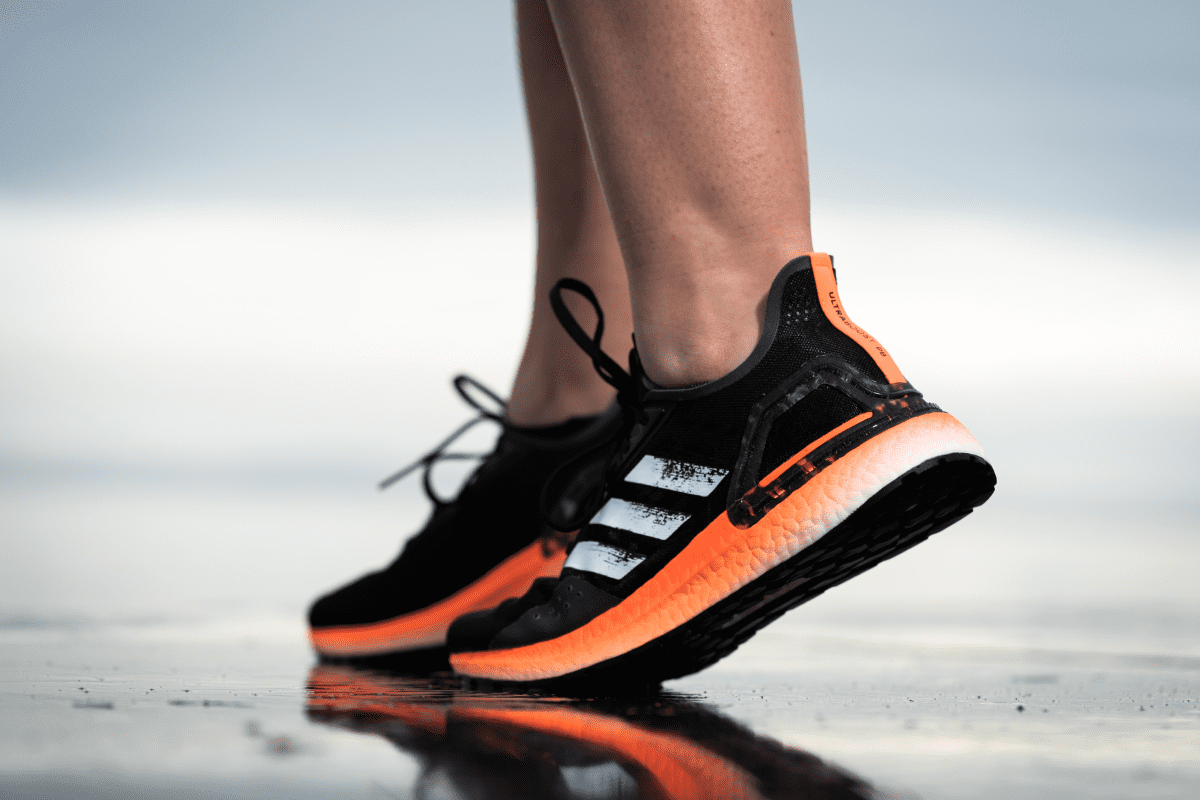 Table of Contents
"It takes many good deeds to build a good reputation, and only one bad one to lose it." – Benjamin Franklin.
What steps are you taking to safeguard and boost your brand reputation?
Reputation is about rapport. Build a strong rapport with your audience, and your reputation as a memorable, reliable retailer can hardly fail to fall into place.
As an ecommerce merchant, perhaps running a Shopify store, you're up against the digital divide. One step removed from your audience, there's all the more reason to put a little extra effort into ensuring a strong customer connection.
Your brand reputation depends on it.
In this article we'll explore five ways that you can boost your brand reputation within the world of ecommerce, helping to ensure that your name is instantly linked to trustworthy service and a fantastic shopping experience.
Tip One
Demonstrate expertise with quality content
Whichever vertical you operate within, chances are you'll have some pretty stiff competition. A great way to stand out as the leading authority within your field is by leveraging high-quality content.
Content can come in many forms. Depending on the products that you sell, you might like to produce buyers' guides, video explainers, recipes, podcasts… The list is endless. You can also consider joining forces with relevant influencers to co-create content that helps you grow your reach and reputation beyond your immediate channels. '
Even product descriptions count, so be sure to lavish attention on them, keeping your brand voice and personality consistent.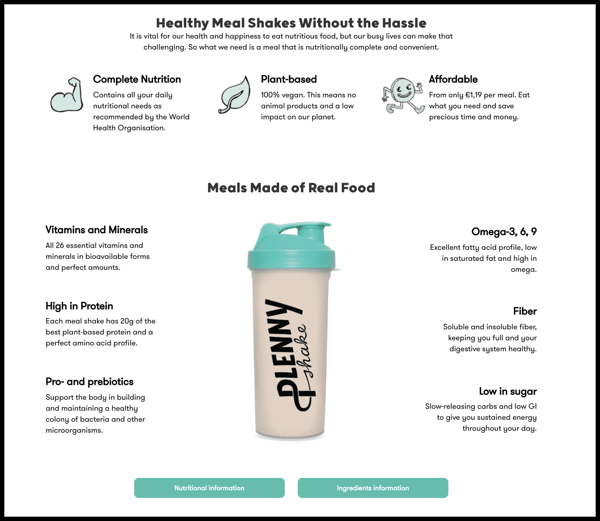 Above is a snippet from a detailed product page by Jimmy Joy. They've spent time, building out their product pages to include educational content, reviews, quality photos, social proof and more—all with the goal of converting more customers.
Take some time to think about the content formats that will be the best fit for the customer personas that you typically target. Where do they hang out? What do they do in their spare time? What are they doing when using your product?
Once you drum up some ideas that will connect with your intended audience, it's time to get to work producing helpful, practical materials that show off your expertise and knowledge.
Tip Two
Show social proof with product reviews
The physiological desire to imitate the behaviour of our peers runs deep. This is why, as an ecommerce store, integrating reviews to your store and wider promotional campaigns is reputational gold dust. 93% of customers read online reviews before buying a product, so make sure you're maximizing the chances of conversion by giving them this insight into the experience of your unbiased customers.

Example of a visual product review built-in to Ciele's product page
It may seem counterintuitive, but even less favourable reviews can enhance your customers' opinion of your brand. A run of perfect reviews can come across as "too good to be true." By displaying these alongside the glowing, five-star ratings, you come across as more trustworthy and transparent. Include well-written and timely public responses for bonus points. When it comes to your reputation, there really is no such thing as an entirely bad review.
Tip Three
Inspire trust with a clear privacy policy
When it comes to digital interactions, privacy is becoming an increasing worry year after year. Within the sphere of eCommerce concern peaks, as retailers ask their audience to part with some of their most sensitive personal and financial data.
In order to help grow trust in your brand, cementing your reputation as a data privacy expert, be sure to leverage a clear and easily readable privacy policy.
Working with a specialist privacy platform such as Enzuzo means you're not only able to demonstrate the care and attention that you pay to your customers' privacy. You're also able to show them the control that they retain, making it easy for them to request and update their personal information.
Tip Four
Handle customer conflict flawlessly
Following nicely on from our previous point, the way that you respond to your customers' complaints also carries a huge influence on your brand's reputation. While pricing and product quality are important, customer service is a huge contributor to customer loyalty proof that your reputation is solid. In fact, 89% of consumers are more likely to make another purchase after a positive customer service experience.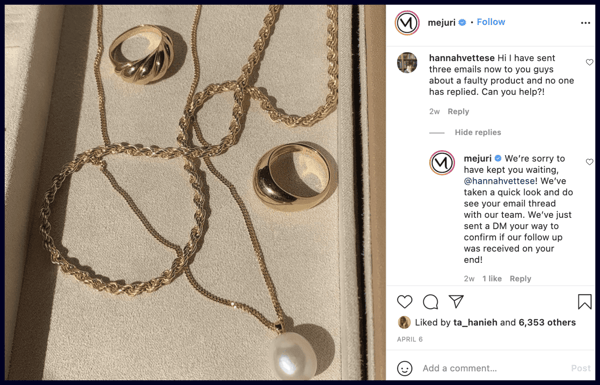 Mejuri quickly responded via social media to a customer unhappy with their product purchase. They addressed the problem, and let the customer know they're looking into it. A public reply from the brand, also shows other customers that their customer service team is active and responsive to inquiries, therefore establishing trust.
When looking to keep a strong reputation for the way your brand handles problems and complaints, remember that you'll want to pay attention to the public as well as personal interactions. This means keeping a consistent approach across all channels, from social media to the review responses previously mentioned.
Tip Five
Put the customer first
With so many eCommerce brands vying for the attention of today's online shoppers, if you're going to raise your reputation above the competition, it's imperative to nail your customer experience.
This should not be confused with customer service. Customer experience is all about tailoring the way you enable your customers to shop with careful consideration for their habits, preferences, and ease of process. In addition to measuring ROI, many brands are now waking up to the importance of measuring ROX (return on experience.)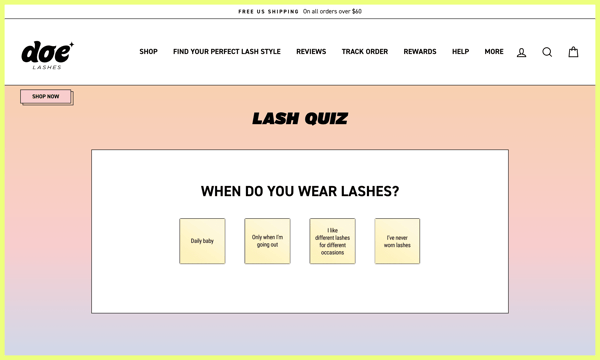 Doe lashes, used the Shop Quiz feature by Octane AI to build a personalized shopping experience for customers to find their perfect lash style. Not only does this help the buyer make a quicker decision, but they're also more likely to convert. The customer gets a unique product recommendation based on their features, leading to a positive buying experience.
The perfect customer experience will depend on your unique audience. Learn what motivates them (Free shipping? Voice technology? The ability to easily make data requests?) and exceed those expectations to ensure a fantastic and long-lasting boost to your brand reputation.
Build & boost brand reputation
Ultimately, without trustworthy foundations, your brand reputation will always be on shaky ground. Follow these five tips to help improve the perception of your business across the board, but pay particular attention to the way that you communicate your commitment to solid and secure data privacy practices.
Consumer trust is fading. One study showed that just 25% of customers believe most companies handle their sensitive personal data responsibly. Position your brand as one which truly respects and prioritizes customer privacy, and enjoy a significant boost to your brand reputation.